Position of Pump Shaft:
Horizontal Pump
Pump Casing Combined:
Centrifugal Pump
Mounting Height:
Since Irrigation Centrifugal Pumps
Usage:
Pump, Pumps, Circulating Pump, Transfer Pump
Pump Material:
Stainless Steel
Impeller Material:
Stainless Steel
Seal Type:
Mechanical Seal or Packing Seal
Rotation Speed:
1450/1750/2900/3500rpm
Pump Spare Parts:
Pump Casing, Impeller, Seal, Coupling, Bearing,etc
Shaft Material:
Stainless Steel
Transport Package:
Standard Plywood Case
Stainless Steel Transfer End Suction Centrifugal Sea Water Pump
Our end suction centrifugal pump is specialized in pumping water, liquid,chemical substances, etc. With com
p
act structure, the working diameter  is 50mm, each model of our product has 4-5 impellers with different sizes, the rotation speed is 1450rpm, 1750rpm, 2900rpm, 3500rpm for optional. This ci
r
culation for agriculture irrigation ,sewage treatment , transfer sea water  etc.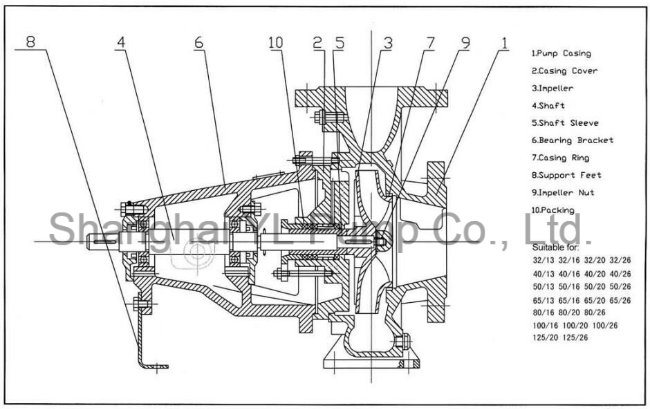 Model Table
Model
Flow Rate
Head
Rotation 
Speed
Shaft 
Power
Efficiency
Impeller 
Dia.
Cavitation
m3/h
L/s
m
r/min
kw
%
mm
m

DAZ32/13-00554

4.3Â 

1.21Â 

6.7

1450

0.17Â 

47

139

1.7

7.2Â 

2.01Â 

6.2

0.21Â 

58

2

8.7Â 

2.41Â 

5.8

0.23Â 

59

2.1

DAZ32/13-00554

4.1Â 

1.13Â 

5.7

1450

0.14Â 

46

130

1.7

6.8Â 

1.88Â 

5.2

0.17Â 

56.5

2

8.1Â 

2.26Â 

4.8

0.18Â 

58

2.1

DAZ32/13-00554

3.7Â 

1.04Â 

4.7

1450

0.11Â 

45

120

1.7

6.2Â 

1.74Â 

4.2

0.13Â 

55

2

7.5Â 

2.08Â 

3.9

0.14Â 

56

2.1

DAZ32/13-00554

3.4Â 

0.95Â 

3.9

1450

0.08Â 

45

110

1.7

5.7Â 

1.59Â 

3.5

0.10Â 

54

2

6.9Â 

1.91Â 

3.1

0.11Â 

54

2.1

DAZ32/13-00554

3.1Â 

0.87Â 

3.1

1450

0.06Â 

44

100

1.7

5.2Â 

1.45Â 

2.7

0.08Â 

51

2

6.2Â 

1.74Â 

2.3

0.08Â 

52

2.1

DAZ32/13-02202

9.0Â 

2.50Â 

26.0

2900

1.23Â 

52

139

1.4

15.0Â 

4.17Â 

24.0

1.61Â 

61

1.7

18.0Â 

5.00Â 

22.5

1.78Â 

62

2.5

DAZ32/13-02202

8.4Â 

2.34Â 

22.0

2900

0.98Â 

51.5

130

1.4

14.0Â 

3.90Â 

19.7

1.25Â 

60

1.7

16.8Â 

4.68Â 

18.0

1.36Â 

60.5

2.5

DAZ32/13-01502

7.8Â 

2.16Â 

18.0

2900

0.75Â 

51

120

1.4

13.0Â 

3.60Â 

16.2

0.98Â 

58.5

1.7

15.6Â 

4.32Â 

14.5

1.06Â 

58

2.5

DAZ32/13-01102

7.1Â 

1.98Â 

14.8

2900

0.57Â 

50

110

1.4

11.9Â 

3.30Â 

13.0

0.74Â 

57

1.7

14.3Â 

3.96Â 

11.4

0.80Â 

55.5

2.5

DAZ32/13-01102

6.5Â 

1.80Â 

11.7

2900

0.43Â 

48

100

1.4

10.8Â 

3.00Â 

10.1

0.57Â 

52

1.7

13.0Â 

3.60Â 

8.7

0.59Â 

52

2.5

DAZ32/13-00554

4.3Â 

1.46Â 

9.8

1750

0.25Â 

47

139

1.7

7.2Â 

2.43Â 

9.0

0.31Â 

58

2

8.7Â 

2.91Â 

8.4

0.34Â 

59

2.1

DAZ32/13-00554

4.1Â 

1.36Â 

8.3

1750

0.20Â 

46

130

1.7

6.8Â 

2.27Â 

7.6

0.25Â 

56.5

2

8.1Â 

2.72Â 

7.0

0.27Â 

58

2.1

DAZ32/13-00554

3.7Â 

1.26Â 

6.8

1750

0.16Â 

45

120

1.7

6.2Â 

2.09Â 

6.1

0.19Â 

55

2

7.5Â 

2.51Â 

5.7

0.21Â 

56

2.1

DAZ32/13-00554

3.4Â 

1.15Â 

5.8

1750

0.12Â 

45

110

1.7

5.7Â 

1.92Â 

5.1

0.15Â 

54

2

6.9Â 

2.30Â 

4.5

0.16Â 

54

2.1

DAZ32/13-00554

3.1Â 

1.05Â 

4.5

1750

0.09Â 

44

100

1.7

5.2Â 

1.75Â 

3.9

0.11Â 

51

2

6.2Â 

2.09Â 

3.4

0.11Â 

52

2.1

DAZ32/13-04002

10.9Â 

3.02Â 

37.9

3500

2.16Â 

52

139

1.4

18.1Â 

5.03Â 

35.0

2.83Â 

61

1.7

21.7Â 

6.04Â 

32.8

3.13Â 

62

2.5

DAZ32/13-03002

10.2Â 

2.82Â 

32.0

3500

1.72Â 

51.5

130

1.4

Compact Press Feed Line

is designed to process the medium plate of metal sheet stamping parts.

Compact Press Feed Line are suitable coil width from 400mm to 1000mm, coil thickness from 0.3-3.2mm, coil weight up to 7000kgs.

Classical Configuration of Compact Press Feed: Hydraulic Coil Car, including travel feature for Coil Reel for coil pick-up and centering. Coil Reel with variable speed drive for additional loop between Decoiler and Straightener. Used for smooth operation even with large coil weights with high line speeds and long feed progressions.Various hydraulic and motorized features and components to enhance capacities and level of automation.

Compact Press Feed line is suitable for motorcycle parts stamping, electric appliance and home appliance stamping, computer frame,refrigerator accessories and air-conditioner parts stamping and etc.

Compact Press Feed Line

Compact Press Line,Compact Press Feed Line,Compact Press Feed, Press Feed lines, Press Feed line, Coil Feed line

Mayflay Machinery(huizhou) Co.,LTD , http://www.pressfeeders.com