For a long time, automakers have taken themselves as the core and have not paid attention to the voices and demands of suppliers. With the slowdown in market growth and increased competition, the contradiction between suppliers and OEMs has intensified. Suppliers complain that prices are low, design changes are too frequent, plans are inaccurate, and auto companies are accusing the poor supply and slow response. These problems are not only for Chinese brands, but also for joint venture brands.
Then how to establish an integrated cooperation mechanism to maximize mutual benefits through innovative and zero-relationship?
Kang Ruifan, member of the Executive Board of Continental China Group and president and CEO of Continental China, believes that in the past 10 to 15 years, China has made great contributions to the development of the global automotive industry, and in the next 5-10 years or even more For a long time, China has still become the engine of development for the global automotive industry. The Continental Group hopes to connect with the Chinese OEM customers to form a synergistic relationship, so that the relationship in the market will be better and better, and the development will be better and better.
Kang Ruifan introduced that Continental has more than 2,000 people working in China, and there are 27 working places in the world. We not only require hardware, but also electronics, software and other aspects. We cooperate with software to cover electricity, Mechanics and mechanics. In the past 15 years, the Continental Group has developed very fast, from 6.7% in 1998 to around 34% in 2014.
Kang Ruifan hopes to connect with Chinese customers and form a synergistic relationship. It will take 20 to 30 years to realize the localization of Continental Group in China and enter the market. We hope to support this industry from the perspective of engineers, active safety and passive security, and establish synergies with host manufacturers.
The CEO of Valeo Group China, Bino, believes that 80% of the current car value added is actually from the supplier of parts and components, we are the supplier of parts, system suppliers, suppliers of solutions, At the same time, the relationship with the OEM is a partner. What is after this? In fact, more and more customers have more cars, they have a platform but can produce different cars, we have fewer and fewer platforms, so that we can maximize investment. At the same time, we can also provide customers with the best solution. This is what our component suppliers can offer to our customers.
According to Bino, innovation has become a very important part of suppliers. For the parts industry, there are two very important features. One is the reduction of emissions, and the other is connected cars, because the combination of cars and the Internet is Future Trends. We already have a lot of ideas about these two characteristics, and we are constantly improving our R&D technology.
Yang Xiaoming, president of Delphi China and Asia Pacific manager of Delphi Linker Systems Product Business Unit, said: As an auto parts system supplier, Delphi's positioning of the zero relationship is very clear, and it is considered to be closely coordinated and win-win. Delphi has 1,400 engineers in China, and such a strong team of engineers can build some very good synergies with our customers. At the same time, we will merge and acquire some companies with corresponding capabilities. In terms of technology, we focus on the business itself and continue to accumulate our capabilities.
Yang Xiaoming introduced that since entering the Chinese market in 1993, Delphi has become a core supplier of major automakers at home and abroad, and 100% of the localized production lines are highly valued by major OEMs. The four main factors behind Delphi's success are innovation, localization, systematization, and execution.
The first key factor in innovation, Delphi has been committed to the invention of technology, Delphi further adjusted the global strategy, putting innovation in the first place. In March of this year, Delphi achieved a self-driving car test across 15 US states in the United States, with a total length of more than 5,000 kilometers. 99% of the cases, using the fully automatic driving mode, this is an unprecedented way, this is another important manifestation of Delphi's pursuit of innovation.
Delphi's pace of innovation in China is not only accelerating. In January this year, Baidu first introduced the in-vehicle connected infotainment system to the market. Provide consumers with a connected experience close to the local market. The traditional automotive industry is facing numerous challenges and variables, and only innovation can keep pace with market development. The focus of development is not limited to product innovation, but also includes innovation in business models and innovation in corporate culture. Accelerating the localization process is the second key factor for Delphi.
In terms of talents, Delphi has 23 production bases in China, all of whom are local talents. The highly competitive solutions developed in China not only achieved results in the Chinese market, but also went global. The products developed by the Chinese R&D team have obtained more than 300 patents, including the function of the vehicle assistance system and the car to the auxiliary system. Also includes high voltage connector systems, transfer centers, and more. Based on global collaboration, based on the high priority of the Chinese market, targeted research and development will be provided according to the special requirements of Chinese customers.
Especially for local OEMs, Delphi helped local OEMs improve their market competitiveness. They have established partnerships with more than 1,500 suppliers in China. There are 23 production bases in China, providing products for 950 different types of customers. The foundation for ensuring the smooth operation of this complex system is our Delphi's enterprise operating system, which combines the various internal organizations and clearly defined functions. Through the process of convergence, feedback tracking and continuous improvement, to achieve one year of optimization, the final result is to ensure the customer's project schedule, product quality, and provide customers with comprehensive after-sales service.
Li Xinqiang, assistant to the president of Changan Automobile and the head of the purchasing department, said that the Chinese automakers include Europe, the United States, Japan and South Korea, as well as state-owned enterprises and private enterprises. The parts and components companies are also from different countries and enterprises of different natures. The management of suppliers, based on capital cooperation with equity as a link, is also based on long-term strategic cooperation and some ways in which the market is fully competitive.
Li Xinqiang introduced that Changan Automobile has established R&D centers in Italy, India, the United States, and Yokohama, Japan, and has a research and development team of more than 6,000 people worldwide. At the same time, it has established joint ventures with Ford and Mazda. It has 12 production bases and 32 automakers around the world, and has established strategic partnerships with world-class component companies. Changan Automobile's vision is to build a world-class car brand. Therefore, it is necessary to establish an internationally competitive supply system as the ultimate goal. Create an efficient Chinese brand supply chain. The core is to train a group, not only excellent in ability, but also a supply system for us. The key is to create a two-way collaborative, sustainable system. Transforming the functions of procurement. The Changan headquarters is responsible for procurement strategy and planning. The Molecular Company is responsible for purchasing vehicle transportation and execution, and has established a dedicated supplier relationship management department at its headquarters. Improve the performance evaluation relationship of suppliers, and carry out unified management of strategic cooperation and capacity improvement. Then, the procurement process is transformed to integrate suppliers into R&D, procurement, production, and sales, so that suppliers are not only participants but also co-developers of rules. It is not just implementation, but also contributes to the development of vehicle manufacturers and truly achieves win-win development.
For a long time, automakers have taken themselves as the core and have not paid attention to the voices and demands of suppliers. With the slowdown in market growth and increased competition, the contradiction between suppliers and OEMs has intensified. Suppliers complain that prices are low, design changes are too frequent, plans are inaccurate, and auto companies are accusing the supply of poor quality and slow response. These problems are not only for Chinese brands, but also for joint venture brands. The reason is that Li Xinqiang believes that auto companies still stay in a single command-based management of suppliers, lacking sufficient communication understanding and trust with suppliers, which will inevitably reduce the synergy efficiency of the supply chain and weaken the competitive advantage of products. From supplier management to supplier relationship management. From single command management to dual-item synergy. The first step is to clarify the goals of two-way management.
All Accordion Bellows can be horizontal, vertical or horizontal. Ensure smooth operation and no noise. Through the use of small thickness of raw materials can make it compressed to suit the requirements of modern mechanical narrow working space.
Flexible bellows smooth surface. Beautiful appearance modelling rules for machine tool appearance add color for machine tool to improve the grade. Elastic there are two main types of bellows style difference is small between different forms is a shutter form (commonly known as a glyph) is a kind of "u" shape. Tilt or the appearance of house form to improve the drainage of liquid. Square is used to form fields (such as lifting table, medical apparatus and instruments). Can be installed after the buckle with tape, glue or tape lap button to connect.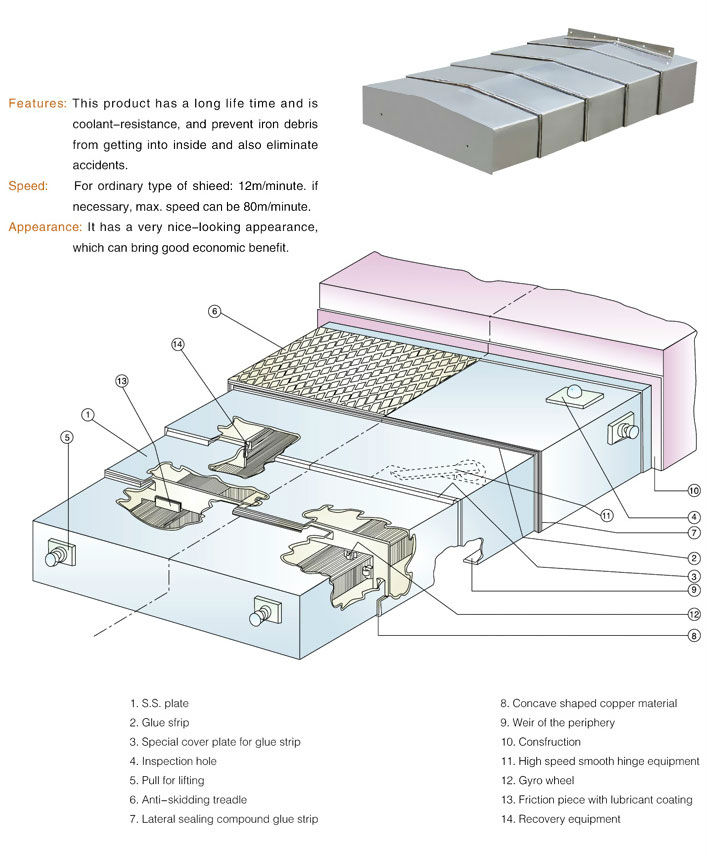 Machine Accordion Bellows Covers
Accordion Bellows,Accordion Dust Bellows,Accordion Dust Cover Bellows,Accordion Rubber Bellows
Hebei Hosan Machine Equipment Co.,Ltd , https://www.hosanmachinery.com